Brian Caldwell, Dan Healton and Keith Whitford join us on this edition of the Director Spotlight. This trio of directors proudly serves the Western Community School community in Russiaville, Indiana. We hope you enjoy the spotlight interview with Brian, Dan and Keith.
New Video Feature
You can now skip ahead to the content you'd like to see by using the chapters feature in the video player. There are 2 ways to do this. Note: this feature is currently not available on mobile devices.
1. Use the white "dots" in the video timeline. Hover over the dot to see the topic and a screen shot. Simply click on the dot of the chapter that you'd like to view. Give the video player just a moment to skip ahead and it should start playing on it's own.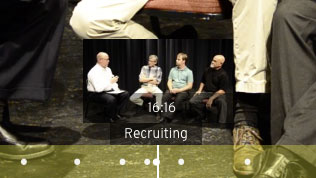 2. Select a chapter by clicking on the chapter icon at the bottom right of the video player. A list of the chapters will pop up and you'll be able to select the topic you wish to view.